Agile tranformation - Infobility Flight
A PROVEN TOOL FOR REAL IMPROVEMENTS

"Without the Flight, we had never come close to the results we generated. The Flight concept has been a vital part of our amazing lean and quality journey during the last decade"
Eghert Holm - Scania
What makesInfobility Flight unique and not just another workshop? Visualization in real time, world class facilitation, understanding of real change, a pragmatic and involving agenda, top energy level including humorand coordinated coaches are the answers. Aunique momentum is created, boosted by the decision power derived from united and proud co-­‐workersand an elaborative presentation.
HOW IT'S BEEN PROVED
Infobility has performed about 400 such exercises. For example, world class product development, excellent supply chain and production, a strategy for digitalization and information management, a vision for public health care or new processes for an administrative authority.
In short
A Flight is always carefully prepared. Together with a working group, interviews and analysis are performed. Desired outcome is defined, agenda and task sheets are hammered out – considering whatis going on and existing culture. A Pre-­‐Flight is carried out with management to align expectations, principles, delimitations etc. During the Flight, the most relevant people are facilitated by Infobility consultants, acting as facilitator, visualizer, editor and analyst. Once in place, the participants are heading for a journey starting with a punchy introduction, including top management pointing out the significance of the work. The first day is mainly about agreeing up on the future picture. The second day is focusing on consequences in different areas, e.g. information, processes, ways of working, roles, competence, infrastructure, culture, governance and organization as well the roadmap towards the future picture. The night between the second and third day, the coaches will visualize the essence of what has been accomplished. The visualization is revised by the participants during the third day. The final visualization is presented to management turning up at the end of the session – not by consultants but by selected participants.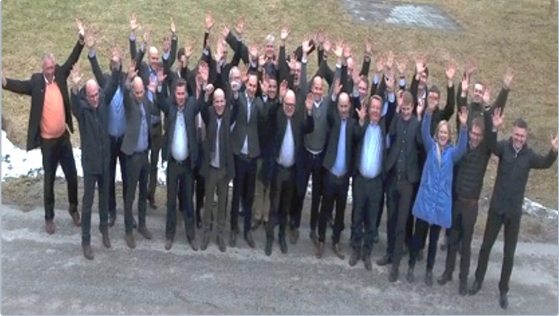 Common view is crucial
Without having the organisation seeing the same big picture of where we are going, it's a major risk that larger projects and change initiatives fail, overrun on budgets or not reaching the intended improvements.
To be honest, we have all seen i happen...
The Infobility Flight is a powerful tool to mitigate unwanted result due to poor communication and divergent views..

Discuss the goals

Listen to everybody

Create the common view together

Present the result to management for approval and buy-in
Download the Infobility Flight white-paper